A project for the Autumn 2021 "Ways of Knowing in Development Studies and Social Change" course with Professor Elizabeth Sumida Huaman¹
Fa'aumu Kaimana²
4 December 2021
¹Dr. Elizabeth Sumida Huaman is a Wanka/Quechua Indigenous and comparative education professor at University of Minnesota.
²Fa'aumu Kaimana is a first year PhD student in Anthropology at University of Minnesota.
Contents
Check out my other public transport projects!
1. Acknowledgements
Acknowledgements go out to the Burke Museum Pacific Islander Knowledge Family (formerly 'Research Family'). They're the reason I'm here and why I'm in grad school. You can learn more about Knowledge Family and the issues they tackle: https://bit.ly/3porfG7.
My gratitude also goes to Professor Eli and my colleagues in the "Ways of Knowing" course. Thank you for your support and questions, and for believing in me when I was experiencing my lows as a first year grad student.
As with any of my epistemological and ontological transport projects, the public transport agencies that provide the services I depict (in this case, Metro Transit and the Twin Cities Metropolitan Council) don't know about nor are they involved with what I'm doing—though I wish they did! Use regularly published schedules to confirm the accuracy and availability of services depicted here.
2. Summary of project and description
Adopted from my project proposal for the "Ways of Knowing" course
For this project, I remade a Marshallese stick chart, known as wa in meto in Marshallese language (Playdon, 1967). Marshallese navigators use these stick charts to aid in their navigation across atolls. The latticework is constructed "from the ribs of coconut palm leaves fastened in a vaguely meaningful pattern to the heavier straight members split from pandanus root sticks and fastened by means of coconut fibre, or other cordage" (Playdon, 1967, p. 155).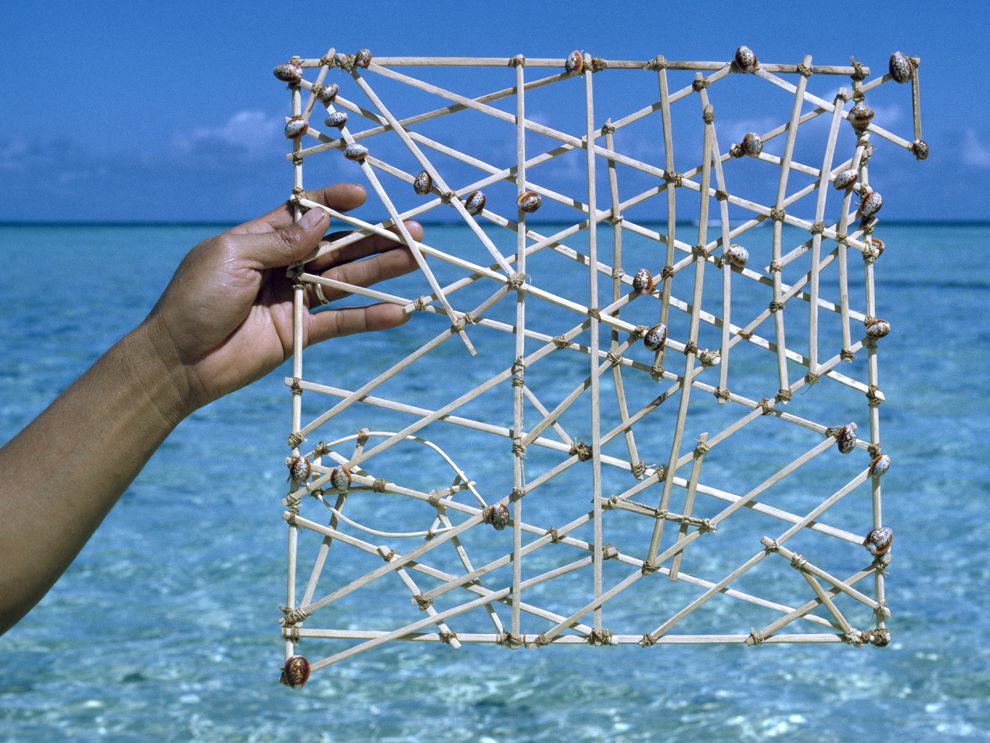 I decided to remake the Marshallese stick chart because of how navigators apply understandings from the learning tool to physically engage with liminal space (i.e. the ocean) and travel across atolls. The stick charts prepares navigators for waves that are "in constant motion with changing direction, strength, and frequency," and "navigators must orient themselves through the practical activity of sailing out of sight of the home island and sensing the shifting configuration of myriad waves" (Genz, 2016, p. 14). In other words, stick charts provide theoretical knowledge for navigators to interact with the space that connects the atolls. The emphasis on active rather than passive engagement with the physical environment that connects places is what makes the stick charts an appealing technology for remaking.
The knowledge system that undergirds the stick charts emerge from the Marshall Islands, a group of atolls located approximately 2200 miles west of Hawai'i (Playdon, 1967; Schultz et al., 2009). The stick charts reflect the distinct oceanic voyaging traditions of Marshallese peoples. Unlike Polynesian and Melanesian voyagers who use stars and wind to navigate, Marshallese voyagers use wave piloting to ascertain cardinal direction and nearby islands (Genz et al., 2009; Genz, 2016). Navigators use several types of stick charts to aid in their wave piloting. Among different types of stick charts, one type is a tool navigators use to study how direction, land masses, and relative position impact swells and current patterns. The stick chart is not necessarily a map of the atolls. Rather it is a mnemonic device navigators use to aid their journey without the use of western navigational technologies (Genz et al., 2009). Once at sea, the navigator stows the stick chart away. They rely "almost exclusively on the dominant east tradewind swell and swells from three other quadrants that are coincidentally the same as Western demarcations of west, north, and south" (Genz, 2016, p. 14).
I used several resources to assist me in this project. In addition to academic literature, I utilized the online Contemporary Culture Database for collections housed at the University of Washington Burke Museum. The database contains detailed images of several Marshallese stick charts in the Burke collection. Materials comprise of midribs from coconuts (which I purchased from a reputable seller of Pacific regalia materials on Etsy) and craft yarn. Labels were fashioned from ordinary printer paper and stapled to the latticework.
I adopted the Marshallese stick chart technology to resemble the frequent bus and train network in Minneapolis. The proposed intervention intends to expand what bus routes might look like as a space of active engagement. Since I am interested in liminal space as a site of knowledge and engagement, the adoption of the Marshallese stick chart will bring attention to the 'currents' that connect people and communities across the city.
Further background, pulled from the assignment description on Professor Huaman's syllabus:
"Your final project offers a broad challenge: to remake an Indigenous technology using both materials Indigenous to that particular technology and not. Approximately half or 50% of the materials used must be Indigenous technology that you have selected (meaning, not necessarily emerging from, but of the place, people, cultural practice, knowledge system that you have selected.)
"The inspiration for this assignment comes from a dear colleague, Dr. K. Tsianina Lomawaima, an anthropologist of the history of Indian education and professor and member of the U.S. National Academy of Education."
3. Photo journal
Each day is a slideshow, generally of 1-3 or more photos of my process. Slide your finger across the photo or click the side arrows to view more.
Day 1: Selecting materials and planning
4 October 2021
After putting together a project proposal for the class, I got straight to work researching materials to use for the stick chart. The ingredients were rather few, which gave me energy to focus on where to get them. Originally, I thought of using stiff pandanus root sticks for segments of routes that arrive every 15 minutes or less, and coconut palm leaf midribs for less frequent segments of routes. Google and Etsy couldn't even figure out what I'm talking about when I searched for pandanus root, but it could also have meant nobody produces those in the States. (I betcha folks who actually live on the islands can find pandanus at a reasonable abundancy. The leaves are also used to weave fine mats which vary in gauge between 1 cm and 1/10 of a mm, but with climate change, it's hell of difficult to weave in the finer gauges.)
Similarly, the coconut fibre twine is ridiculously difficult to find, specifically a smaller gauge twine. But unlike the sticks, the success of my project didn't depend on the kind of twine I'm using. Also, I know from my prior work at the Burke Museum that Samoans have woven coconut fibre twine for canoe-building, fales (dwellings, gathering places), and other pragmatic purposes. That's a whole 'nother beast of learning and praxis, especially when, based on pictures from the Burke Collection, the Marshall Islanders may have had their own way of tying things together. So, after a failed experiment using sewing thread, I decided to use craft twine instead.
My decision to stick with one medium (coconut leaf midribs) is probably the most prudent, looking back at the materials selection phase of my project. The midribs are thick and sturdy enough for the job, is somewhat flexible depending on which end of the stick I use, and they generally held up well as I worked to connect them together. Further, there is an Etsy seller in California (the capital of Pasifika diaspora in the mainland that rivals Salt Lake City Metro, as far as I understand it) who sells coconut leaf midribs for regalia. I was not disappointed.
Song to represent the day's work:
Day 2: It came! It came!
18 October 2021
The post came today, and I could not be more happy. As soon as I opened the box, the sticks sprang to life. I don't know how many of such boxes my vendor keeps, but I can imagine this person must have connections with Amazon.
This box obviously took a beating, but I originally wanted to use the box to keep my Foreign Object Debris ("FOD"). I interned at a Boeing facility in summer 2015, and there, I learned why it's important to keep FOD in a specially marked container. The term FOD refers to debris, tools, and materials that, if they were to end up on a plane, would cause a catastrophe. A FOD container would have been a good third use of the box, to squeeze every last bit of life out of it. But the box ended up being much larger than I needed, and I found a more suitable container (a Tupperware bowl from my kitchen) to isolate the debris I produce for this project. The box was sent to heaven in an ASPEN recycling container, hopefully to begin a new life somewhere else.
Song to represent the day's work:
Day 3: To knot or not to knot
25 October 2021
When I began building this project, I had to learn to tie a clove hitch knot followed by square lashing. I also stapled corridor labels on the currents. The most difficult part so far is tying knots. I could not use cotton sewing thread I had way back when (2017?), so I went to get craft twine. I'm starting to appreciate just the sheer dexterity and fine motor skills it takes to tie lashings together. My continued challenge is scale. I began with the lines that represent Route 21 (Selby-Lake), Route 54 (7th St W), and the Hiawatha tram line since they represent the biggest routes in the Twin Cities, but other than that I felt rather uninspired. Where do I go next? Which lines can I safely attach without compromising structural integrity? Other than a schematic on paper, I don't believe there are models of similar projects for the Twin Cities to refer to. If anyone knows of methods for more secure lashings (tying cross-lashings), I'd be down to learn.
Song to represent the day's work:
Day 4: Lessons from topology
8 November 2021
There's no greater mystery than grad school itself, but one thing I'm beginning to appreciate is how much influence my interventions have on my colleagues' understanding of classical anthropological theory.
I gave the presentation depicted in the photo of the day for the said theory course. It was inspired by assertions made by anthropologist and engineer Edmund Leach. Basically, while I see these two buses as being very different from each other in terms of manufacturer, length, width, and fuel type, a topologist (those who study patterns and properties that persist when they bend, twist, or stretch objects) argues these buses are no different from each other fundamentally. Clearly, a topologist has no business in the debate on which bus is better: A Gillig, or a New Flyer?
While I had intended to ground the discussion within the readings—a pedagogical move I believed invites participation from colleagues who have not had as much exposure and background in critical theory—I was even more amazed what this little transit soapbox meant for my stick map. A stick map can be read as topological (even though that is not what it actually is in Marshallese paradigm) because I focus on the fundamental corridors a bus route serves while ignoring slight turns and deviations. When the map focuses on connections within a network (as I read Marshallese stick chart paradigm to be), the finer turn-by-turn details within a current are less important to display.
It would be interesting if I went to Genz and got his take on topology. He would likely say it's not the level of detail that influences wave navigation knowledge, but rather the process for learning and preparing to navigate across the islands. I think back to why these stick charts are there in the first place. Navigators are supposed to study the stick charts and memorize them for their journey. They not only need to know where they're going, but how they are going to get there. The balance between details and principles of navigation means topology would be a good ongoing discussion topic when it comes to learning, navigating and communicating information in public transport systems.
Song to represent the day's work:
Day 5: AC/DC enters stage left
19 November 2021
After a number of weeks worth of readings, presentations and essay assignments, I'm back to work assembling the stick chart. Let's talk music. I'm late to the DC Titans fanbase. The TV show has high emotional appeal and terrible plot sequencing. But one thing I can appreciate is the music that plays throughout the series.
Music is my way of remembering what I see visually, whether they be events of a TV show, the mood of a city (affectively speaking), the neighbourhoods I travel to, and so forth. I keep different playlists depending on the season, time of day, and where I'm traveling to on public transport. Popular and/or Islander jams for daylight hours, electronic or house for night riding, Legend of Korra, Fantastic Beasts, or Titans for a cinematic appeal to the city, and so on.
Notice how I cross over universes with the kinds of songs I play during my time on transport. For example, much of my Islander music comes from Niu FM, a radio station housed in Manukau, Auckland. I've been to Manukau before, albeit only briefly, but this particular flavor of Islander music reminds me of my time in the city. It is only fitting for me to listen to Kiwi Islander jams if I want to make traveling in Minneapolis remind me of Auckland in an affective way. Similarly, I could utilize Legend of Korra in the same way if I wanted to make Minneapolis feel like Republic City in the Avatar universe. A different playlist. A different way of looking of the city.
DC Titans is all the rage for me…in terms of its playlist. Playing these rock and disco songs reminds me of the scene where Robin goes to an empty warehouse and cleans out the…collateral damage on his suit. The Titans playlist, for the most part, are great workshop songs and ones that I happily utilized in my final project. I have also shown why I have a song to represent each day.
Song to represent the day's work:
Day 6: Azarath, metrion, zinthos!
29 November 2021
I study witchcraft as a non-academic personal endeavor and to try and make connections with people outside the university (you'd be surprised to learn how difficult it is for me, as an only child, last surviving family member, and clearly non-traditional student, to build community outside the confines of an institution, let alone one in a state where I lived for only three months). Though I have only recently began a more structured study into the theories and ontologies of modern witchcraft, one thing that became apparent is the fact I have done energy work for much longer than I can formally call myself a 'witch'.
The magick (spelt in such a way within neo-pagan communities to distinguish from stage magic or popular culture depictions) comes from me breaking s*** and putting stuff back together. I remember that as a toddler, I was deeply fascinated with paper and stationary. My parents would hand me unwanted envelopes, and I would try to pull the clear plastic windows apart from the paper. Over time, I became really good at separating windows from envelopes, which often infuriated mum because those are the envelopes she needed to pay the bills.
For a more recent example, I think back to Winter of 2019 when I joined the First Nations, a Native and Indigenous student organisation at University of Washington. I worked the kitchens as a frybread dough maker for the annual Winter Powwow. I must have internalized the kitchen lead's instructions, because I was consistently able to knead frybread dough in the correct diameter and thickness. Looking back at it, the magick of frybread came not from following instructions to the letter, but from being mindful of the mana I put into each piece. Some of my peers who worked the frybread with me were more frustrated about their pieces. My finesse, as I would have called it at the time, came from understanding that stretching frybread dough is like stretching muscles. Stretch it too much, and you could rip the whole damn thing apart.
I can't promise the stick map I created is free from my witchcraft. But weaving knots for the stick map works in the same way as separating windows from envelopes, or preparing frybread. Not only do I need to apply just the right amount of pressure on each knot for the sticks to hold, I also had to be mindful not to tilt or bend the latticework in such a way that it breaks—especially when I'm weaving in particularly tight areas. That's the gist of witchcraft ontology. Intention is everything. If I'm not careful enough, my actions have ripple effects that are farther reaching than I can say 'Azarath, metrion, zinthos.'
Song to represent the day's work:
Day 7: The epistemic case for east-west bus routes
2 December 2021
By now, you'll notice that I worked on connecting the trunk (north-south) routes to the latticework. It became apparent to me that the sticks representing trunk routes needed something to hold onto other than the 21 (Selby-Lake) line.
This is where another east-west line line came in handy. The 515 (66th Street and American Boulevard in Bloomington) provided just the anchor I needed to make the existing latticework more sturdy. The same could be said for the 2 (Franklin Avenue).
There are a few takeaways for this phase of the project. The biggest is that the success of the project depends on a balance of connections and frequency (how often the bus comes). For the most part, I use the full extent of routes that are part of Metro Transit's High Frequency Network. Later on, you'll notice I also included Route 32 (Lowry in North Minneapolis) for practical and epistemic reasons. Practical, because it will connect three north-end arterial Bus Rapid Transit lines by 2022 (A, C, and D Lines), and because the northern portion of the stick chart would not be sturdy without it. Epistemic (NB: epistemology = how people know what they know; ways of producing knowledge), because a network is stronger with a large number of strategic connections. I could make the same epistemic argument for Route 46 (46th Street) which gets terrible weekday and no weekend service yet connects with a number of high frequency routes in south Minneapolis. I have not needed to include that route to maintain the structural integrity of the stick chart, however.
What emerge from the stick chart (and beginning from a Marshallese knowledge paradigm) are real policy implications for public transport in the Twin Cities. A transport system is strong not simply because of the number of high frequency bus routes, but through an investment in high-frequency east-west or cross-town connections that connect to many trunk routes.
Song to represent the day's work:
Day 8: A, B, C, D, X…Oh my!
3 December 2021
The notoriety of Twin Cities public transport can best be summed up by the number of lettered route "branches" or deviations a bus may make. This exposes a weakness in a topological approach to Twin Cities buses, because topology ignores such deviations while focusing on the fundamental corridors these buses serve.
In presenting to the public, I need to make the topological assertion that services depicted by the sticks generally make deviations or stop short of traversing the whole corridor. Yet, I also need a way to balance these assertions with some details of these deviations that are presented in a more de-mystified manner. Therefore, I created a one-page spreadsheet to accompany the stick chart project. The route number shows the corridors all variations share in common, along with a combined frequency. Branches are grouped and listed in descending order based on frequency. The further down the list one goes, the greater distance the branch travels, but the lesser frequency that branch may have.
I'm three months fresh in the Twin Cities, yet, I'm already dreaming of the day Metro Transit gets their act together. This means consolidating as many route variations as possible, and improving their in-house transit phone application.
Song to represent the day's work:
Day 9: Celebrating the ORANGE Line Grand Opening (and final assembly of my stick chart)
4 December 2021
The METRO Orange Line (35W Motorway) opened on 4 December 2021. Dignitaries lined the highly anticipated Lake Street Station which was newly constructed as part of the overall rehabilitation of the motorway.
There were the usual narratives around the local, state, and federal partnerships that made the project happen in the political sense, but one story that struck me came from a longtime community member. Prior to rehabilitation, the bridges were dilapidated, and the bus station didn't have a fancy indoor waiting area. When it snows, riders wanting to access the bus station have to scale the stairs, avoiding snowbanks and hidden ice along the way.
Of course the whole point of the community member's vignette is to show how much the area has changed (or not) in the decades prior to this moment. But his story raises other issues for my stick map project, namely, accessibility and racial equity.
What assumptions do I make when I reimagine how we think about Twin Cities transit? A number of things can probably go wrong when people study and act on knowledge from this stick chart. For example, I didn't have a strong appreciation for the dangers of snowbanks and stairs until a long-time community member spoke out. This is the power of engaging with spaces and listening to community members. The multiplicities of knowledge systems and ontologies create a sustained conversation about making shared spaces more accessible and welcoming for community members of all abilities and identity groups.
Fortunately, Marshallese epistemological paradigm does not foreclose the possibility for the transport community to listen and have conversations about issues that impact marginalized communities. This is the very foundation of the stick chart and its intended ontological function. Study up. Experience the knowledge embedded in the stick chart. Come back and imagine different ways of looking at the transport system.
Song to represent the day's work:
Final Thoughts
It's time to put the kibosh on this photo journal. But there are a few thoughts and conclusions I have about my stick map project.
In Research is Ceremony, Wilson (2008) juxtaposes his conceptualization of an Indigenous research paradigm alongside dominant western research paradigms. He does not outright dismiss western paradigms. Rather, he finds value in using methods from western paradigms, so long as they fit the epistemological, methodological, relational, and axiological imperatives of an Indigenous research paradigm. In this project, I began from a Marshallese epistemological paradigm which values connections, engagements, and relationships across islands and water. I noticed throughout my reflections how I used several universes and ontological approaches to help me along the way, namely manufacturing, topology, popular culture, modern witchcraft theory, planning, and the actual act of wayfinding and 'testing the waters', so to speak. These do not stem directly from a Marshallese epistemic paradigm. Rather, they're used to accomplish the ends of a Marshallese paradigm. This resulted in an intimate and deeply personal latticework, yet one that anybody learning about the Twin Cities transport system can look back on and learn from themselves.
I return to manufacturing and the issue of waste. When tying currents to the latticework, I need some extra twine to secure the knot and prevent myself from injuring my hand (or head, for that matter). At the end of each phase of the project, I trim the excess twine and ends of sticks. The photo of the Tupperware FOD container shows how much string I trimmed, as well as the sticks that ultimately didn't end up in the latticework. I estimate that the combined length of the string would give me enough to tie 3-4 lashings.
At least one person on Instagram is egging me on to construct latticework for Seattle, my home town. So the sticks in the bowl, along with my remaining bundle of midribs, could be used for that end. I can potentially use the wasted string for formal personal rituals, but due to the time I'm spending in graduate school, I've been working on ways to do magick without the use of rituals. Overall though, the latticework is a brilliant piece of map-making for the Twin Cities. Hopefully, I can find some way to ship it to Seattle so that my chosen family (i.e. at University of Washington) can use it as an educational tool on knowledge and knowledge-making.
4. References
Burke Museum of Natural History and Culture. (n.d.). Contemporary Culture Database. Retrieved September 26, 2021, from https://www.burkemuseum.org/collections-and-research/culture/contemporary-culture/database/
Genz, J., Aucan, J., Merrifield, M., Finney, B., Joel, K., & Kelen, A. (2009). Wave Navigation in the Marshall Islands: Comparing Indigenous and Western Scientific Knowledge of the Ocean. Oceanography, 22(2), 234–245. https://doi.org/10.5670/oceanog.2009.52
Genz, J. (2016). Resolving Ambivalence in Marshallese Navigation: Relearning, Reinterpreting, and Reviving The "Stick Chart" Wave Models. Structure and Dynamics: EJournal of Anthropological and Related Sciences, 9(1), 8–40. https://doi.org/10.5070/SD991031888
Playdon, G. W. (1967). The Significance of Marshallese Stick Charts. Journal of Navigation, 20(2), 155–166. https://doi.org/10.1017/S0373463300028800
Schultz, L., Kelly, J., & Weber-Pillwax, C. (2009). The Location of Knowledge: A Conversation With the Editors on Knowledge, Experience, and Place. The Alberta Journal of Educational Research, 55(3), 335–350.
Wilson, Shawn. 2008. "Chapter 2: On the Research Journey." In Research is Ceremony, 22-42. Winnipeg, MB (Canada): Fernwood Publishing.